The Investigator's Guide to Social Media introduces popular social media platforms and how information shared on these platforms can benefit investigators. In this installment, we'll be discussing why one should be investigating Untappd and other social drinking apps.
---
What is Untappd?
Since their introduction in 2007, social drinking apps have become an increasingly popular way for their users to enjoy a beer. Untappd, the most popular of these mobile apps, allows users to interact with fellow drinkers while tracking what and where they've been drinking. This information could prove to be useful for a variety investigations and in some instances, like pre-employment screening, might constitute derogatory content.
How does Untappd work?
Untappd has a web version and a mobile app which combine the geo-aware features of platforms like Foursquare with the social interaction of Facebook. While both versions allow Untappd users to check-in beers, earn badges, and view / comment on their friends' activity, only mobile app users are able to share their location.
Untappd's functionality is fairly simple. Users share what they're drinking along with (optionally) their location, comments, and / or a photograph. Their friends are then able to see and comment on the beers which they have checked-in. Users earn badges for the drinks they check-in; these are also visible on public profiles.
[x_video_embed type="16:9″][/x_video_embed]
Untappd Terminology
Check-in – Check-ins are similar to a "status update" on Facebook and allow the user to share what beer they're drinking and include optional information like the location and beer rating.
Toast – Toasts are similar to a "like" on Facebook. Along with comments, toasting makes-up a large part of the platforms social interaction.
Beer List – The Beer List is a history of a user's check-ins. This compilation shows what beers a user has consumed in the past.
Badges – Badges are a gamification strategy designed to encourage users to increase the frequency of a user's check-ins. Badges are earned by checking-in beers and unlocking "achievements." These can include drinking a certain number of a style of beer, drinking a beer from a particular brewery / country, or checking-in during an event / holiday.
Who uses Untappd?
According to its developers, Untapped currently has more than 4 million users. This makes it the most popular social drinking app, but still a niche platform for social media investigations. Additional details on user demographics are unavailable. Our analysts suggest that the typical Untappd user is 18-30 years of age.
Search Trends for Drinking Apps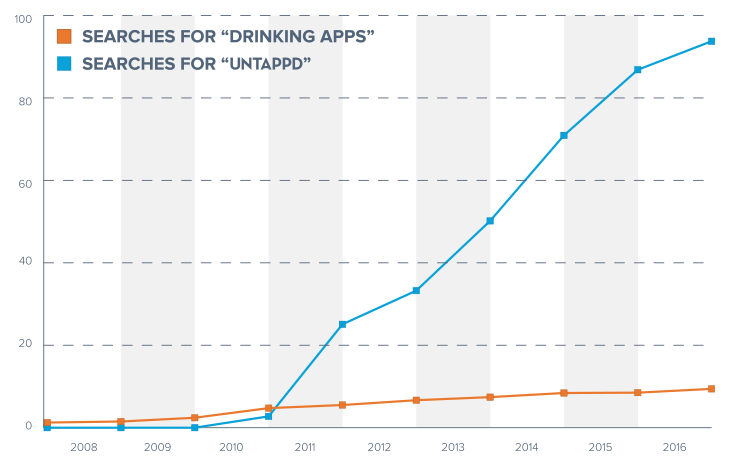 What information do users share on Untappd?
Untappd users share several key pieces of information when they post a check-in to the platform:
Alcohol Consumption – Users share the frequency of their alcohol use, the amount they consume in any given period, and the alcoholic content (ABV) of the beers they've imbibed.
Time – Check-ins and comments are timestamped and cannot be altered or back-dated by the user.
Location – Untappd users have the option of sharing their location when they are using the mobile app. This is typically a bar / brewery; but with the latest update to the application, users are able to share where they purchased beer as well.
While the point of this article the availability of this information and not its utility, it could prove to be very valuable to an investigation. For instance, showing that the subject drinks frequently and to excess could be derogatory information discovered during pre-employment screening. If the investigation is focused on a specific date, Untappd could show an investigator if the subject was drinking, where they were drinking, how many beers they consumed, and the alcoholic content of those beers.
Untappd integrates with Facebook, Twitter, Foursquare, and Google+. This integration allows users to share their check-ins across those platforms.
How does one search Untappd?
While a user can choose to make their Untappd profile private, restricting access to check-ins, locations, and badges; the majority of users maintain public profiles. As such, SMI's analysts are able to view a subject's profile without interacting with them in any manner.
Should you be investigating Untappd?
While Untapped is decidedly a niche platform, it's a great example of the quality of information available to investigators on non-mainstream platforms. A typical investigation probably won't require the researcher to find information about the subject's drinking habits. However, when a case requires unconventional information, our analysts know where to begin their search.
Let us know how investigating Untappd or other social drinking apps fits into your discovery process in the comments section below. Want more information about SMI's social media investigation or preservation products? Please contact us or call (888) 299-9921 and one of our representatives will gladly assist you.